Taking KUVAN and Managing PKU
How to Take KUVAN® (sapropterin dihydrochloride) Tablets or Powder
Once a day

At the same time each day

With food, preferably your largest meal of the day
Take KUVAN Tablets or Powder for Oral Solution exactly as your doctor tells you.
Please see KUVAN Instructions for Use.
Taking KUVAN Powder 500 mg Is as Easy as 1-2-3
KUVAN Powder dissolves completely in 15 seconds in water, apple juice, or a small amount of soft food such as applesauce or pudding.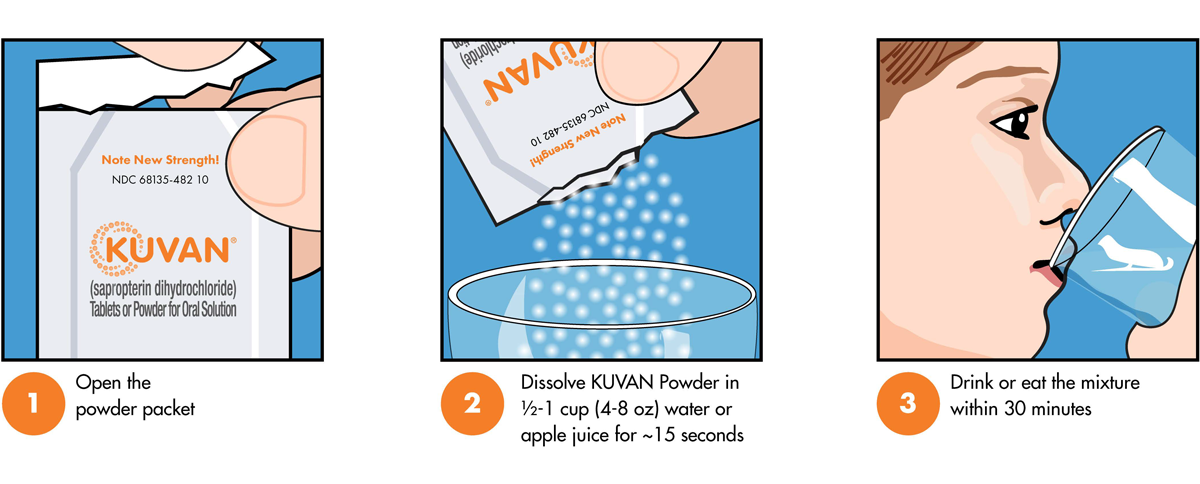 Keep in Mind
Follow your doctor's directions for taking KUVAN Tablets and Powder
If you forget to take your dose of KUVAN, take it as soon as you remember that day. If you miss a day, do not double your dose the next day—just skip the missed dose. If you take too much KUVAN, call your doctor for advice
KUVAN should be taken every day in conjunction with a low-Phe diet. Don't change your diet without talking to your doctor or dietitian
Tips for Success
Living a healthy, productive life with PKU is possible. However, it is important to remember that PKU is a serious disease requiring lifelong management. Here are some keys to success to achieve a goal of Phe control.
Keep a Food Diary
Track your Phe intake by keeping a food diary. The diary helps your dietitian see how much Phe you consume over several days. The dietitian uses that information to adjust the low-Phe diet and Phe-free medical foods as needed. So it's very important to accurately record what—and how much—you eat and drink each day.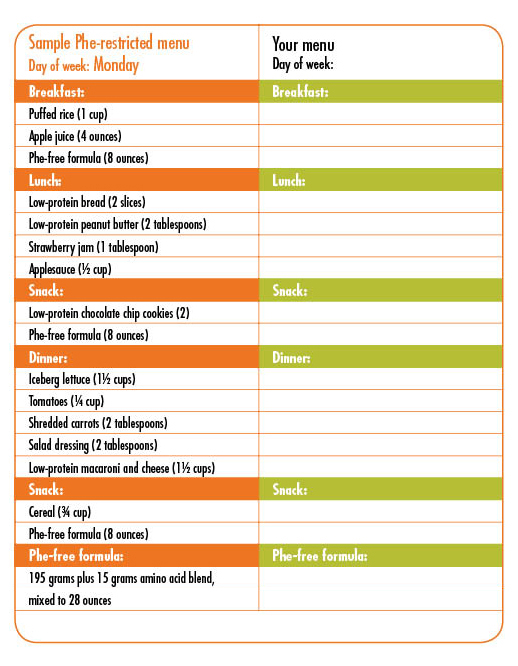 Download a sample food diary showing a 1-day menu for a low-Phe diet.
Download a 3-day diet record to write down your food and beverage intake, which is a dependable way to determine your Phe intake.
Talk to Your Clinic Team
Learn the facts about KUVAN. Then talk to your clinic team. Together, you and your clinic team can decide if KUVAN is the right choice to help you manage your PKU.
Here's how to get started:
Call and make an appointment

Mark your appointment in your calendar

Download this 3-day diet record and track your diet for 3 days. Take it with you to your appointment

Gather together any relevant medical records, especially your blood Phe levels

Be sure you have the name and address of your clinic

Take your medical insurance card or information

Make a list of medications you take including:

Prescription medicines

Nonprescription medicines

Vitamins

Herbal supplements

Go to the appointment, even if you don't have the above information
Sick Days and PKU
Blood Phe levels are likely to rise during the illness. However, this elevation is most likely temporary. When you are sick:
Treat the illness first

Don't force yourself to eat. You or your child may not have an appetite

Keep yourself or your child hydrated. Water, fruit juice, low-protein gelatin, and low-protein broth are good choices
Travel Tips
Plan ahead. Whether you are going across town or on vacation, these travel tips may come in handy.
Pack your medical foods and KUVAN in a carry-on bag, along with a doctor's note for both

Bring a cooler with ice to keep your Phe-formula cold during short-distance trips

Find out as much as possible about the place you are visiting, especially if it is a foreign destination. How clean and safe is the water? Will you be able to keep your formula cold?

Stay in hotels with a microwave and fridge. That way you can alternate between eating meals out and having some "homemade" meals in your room

For longer stays, find out where you can buy low-Phe foods in the area
For the Teacher
Help your child's teacher understand PKU. Download a brochure that provides important information that a teacher—or anyone caring for your child—should know about PKU and the low-Phe diet.