KUVAN Dosage Forms
For those who respond, KUVAN® (sapropterin dihydrochloride) Tablets or Powder for Oral Solution—in combination with a low-Phe diet—can help reduce blood Phe levels.1
KUVAN is offered in three different dosage forms:
100 mg Tablets

100 mg Powder Packets

500 mg Powder Packets
Available in a convenient 500 mg packet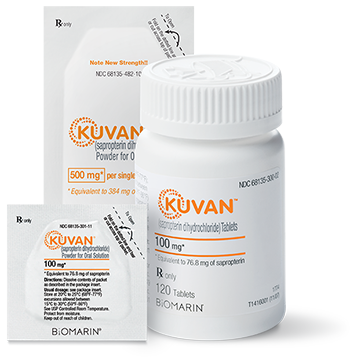 KUVAN Powder Offers Quick and Easy Preparation
Just open and mix

Dissolves completely within 15 seconds

May be dissolved in water or apple juice or mixed in a small amount of soft food, such as apple sauce or pudding. Drink or eat the mixture within 30 minutes

Sweet taste with lower acidity compared to KUVAN Tablets

Preparation eases transition for those already on KUVAN Tablets

One packet of KUVAN Powder 100 mg equals one KUVAN Tablet

One KUVAN Powder 500 mg packet equals five 100 mg tablets or five 100 mg packets
A Convenient Option to Help Patients Better Manage PKU
For those who respond, KUVAN® (sapropterin dihydrochloride) Powder 500 mg offers improved convenience

Delivers the proven efficacy and established safety profile recognized throughout 8 years of approved KUVAN use1

Patients and caregivers will have fewer packets to open, which will make it easier to include this treatment in their daily routine

Because PKU requires tight daily management, a medication that is easier to dose and take could help support a successful treatment plan

If adherence is a challenge, KUVAN Powder 500 mg could help make a difference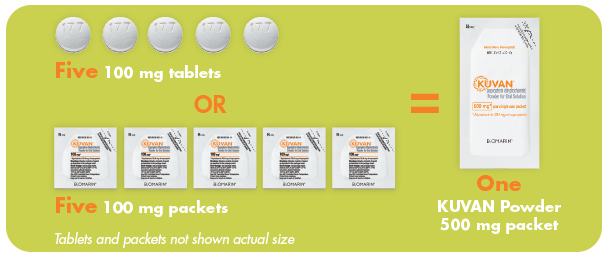 Some patients may have 2 co-pays if their prescription includes both 500 mg KUVAN Powder and 100 mg KUVAN Powder (or 100 mg KUVAN Tablets).
For eligible individuals, financial assistance may be available. Please contact BioMarin RareConnections™ for case management and reimbursement support. Learn more.
Reference
KUVAN [package insert]. Novato, CA: BioMarin Pharmaceutical Inc; 2015.